Search basics
When it comes to searching, a few basic tactics can greatly improve your results. This page covers the following search basics:
And, Or, Not (Boolean operators)
Truncation
Wildcards
Phrase searching
Limits
Collect as you go
And, Or, Not (Boolean operators)
Since words are an important tool for doing searches and for finding research material, it's important to *combine* these words effectively. To combine multiple words, we use AND, OR, NOT. (These combining words are often called "Boolean operators"). Most web search engines like Google, Bing, and Yahoo automatically use AND between your search terms, but college-level researchers can do smarter, better, faster searches.
(Tip: When using operator words like AND, OR, NOT in library research databases, it's essential to type these operators in all capital letters.)
Using Boolean operators in search boxes is remarkably similar to dating. When we're doing library research, we are generally doing a WORD MATCH: Tools take the words we type and look for the same words in articles, books, etc.
Dating might be considered a LOVE MATCH or a TRAIT MATCH. When you add terms with AND, you add another limitation on your search (reducing the number of matches). When you add terms with OR, you create more opportunities (more matches). For example, if you are interested in dating someone with brown hair, you'd get a certain number of possible matches. But if you date only people with brown hair AND brown eyes, you'd get fewer possible matches than your search for brown hair. At the same time, if you date people with brown eyes AND *either* brown hair OR black hair, you'd get more opportunities for matches. Add search terms with OR, you'll get more results. Add search terms with AND, you'll get fewer results.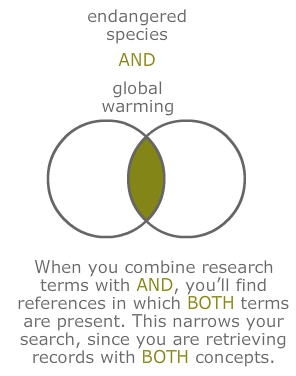 ---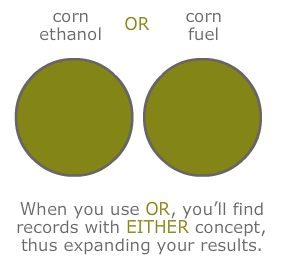 ---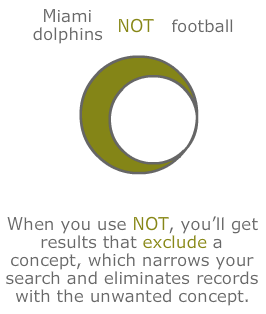 Why learn to use OR in the first place? There are always multiple ways to communicate the same idea. The documents that can help you with your work will be no different. Try to think about some of the other ways someone else might describe your topic, problem, or question.
Boolean Operators in Action!
Let's see how using Boolean operators can help your research in the Academic Search Complete database available at your library. To watch the videos, click below.
Narrow your search with AND:

---
Broaden your search with OR:

---
Eliminate unwanted results with NOT:

---
Combining Boolean Operators
You can use multiple operators within the same search to get even more effective and powerful results. This practice is often called "nesting," because it allows multiple layers of terms nested into one string. Simply group your synonyms with OR, then combine them with another key concept using AND.
In the example below you can see how this works.

Try Truncation
Another technique that can improve your search results is called truncation. Truncating a search term means that you are able to search different forms of similar words all at once.
Truncation requires the use of symbols to replace word endings. The most common symbols are: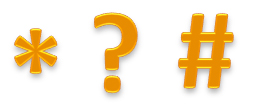 (To see what specific character is used for truncation, always refer to the Help section of the database or ask a librarian)
Using Truncation
Shorten the word to its root and add the truncation symbol.


This will retrieve all similar, singular, and plural forms of the root word "Vege." It will look for variations at the ENDS of a search term.
Truncation can save time and expand your search to include related words.
Using "wildcards"
Replace one letter WITHIN a word using the wildcard symbol.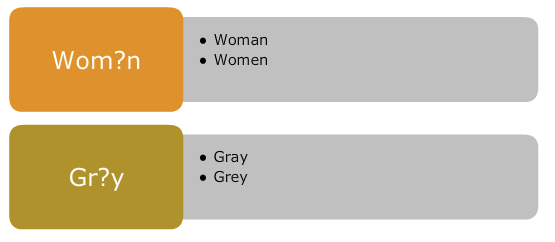 Using wildcards can increase your search results to include different forms and spellings of the same word. It will look for variations WITHIN a search term.
(To see what specific character is used for wildcards, always refer to the Help section of the database or ask a librarian).
Avoid Truncation Overload!
Trying to truncate a word too early can retrieve many unrelated and unwanted results.
For example, when trying to search for topics related to "politics" think carefully about where to truncate your search term.

Phrase searching for (good) narrowing down
Many topics and many projects have a key phrase at their core. "Global warming." "First amendment." "Human resources." The essence of these is that their meaning comes from the combination of two or more words, directly next to each other and in a specific order. A document that contains the word first in one sentence and then amendment in the next sentence could be talking about something entirely different.
Quotation marks should be put around phrases that you want to search as a chunk.
Know your limits!
Databases have many options that can help refine your search. Most database searches can be limited by these variables: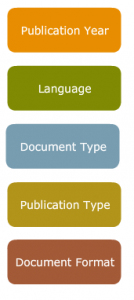 These can be particularly helpful if your professor has set constraints on what you're allowed to cite in your paper. For example, if you're allowed to cite only peer-reviewed, scholarly journal articles published within the most recent 5 years, then the "Publication Year" and "Publication Type" limits could save you time and effort.
Most research databases give you the option to filter your results to just articles in scholarly journals. For example, in EBSCO Academic Search Premier, you can select "Scholarly (Peer Reviewed) Journals" in the "Limit your results" or "Refine your results" options: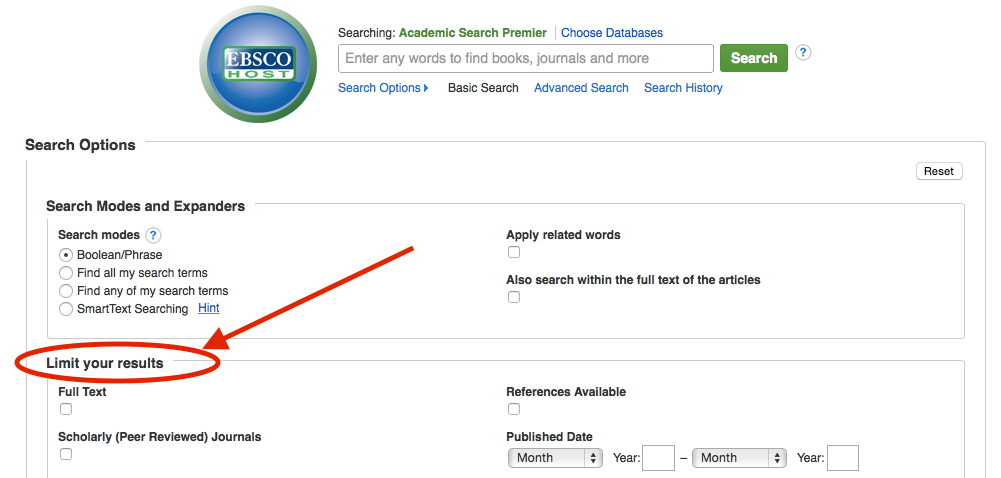 Collect as you go
The search tools you use (like research databases and Gitenstein Library's Books & Media search) also have the functionality to make your citations and bibliographies much easier. The "Make Citations" page goes into greater detail about what your professors will expect, but for now, take note that search tools allow you to export or save the citation information (in the correct format that your professor has asked for!) in the midst of your searching efforts. This means that, by collecting as you go, you'll be laying the groundwork (with almost no additional work) for easier citations and bibliography later. Look for the words "Export" or "Cite" when using search tools.
Credits: This page is largely based on the "Begin your research" tutorial by University of California, Irvine. The YouTube videos on this page are adapted from videos made by librarians at Claremont Colleges.